i have some killer high-top green and pink chucks for sale!
i'm letting you guys have a go at them before i throw them on ebay.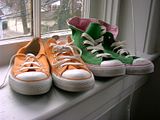 click for a better look!


they are size 6 mens - 8 womens
i'm asking 25 bucks plus 5.50 shipping!
email me @ megan.daniel[AT]gmail.com or comment on my selling journal
mtf_sellsif you are interested!!